Tina Manbeck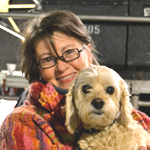 The Celtic Music Show
Tina Manbeck is the host of THE CELTIC MUSIC SHOW every Sunday night from 8 to 10 p.m.
Christine ("Tina") Manbeck is a member of the Celtic Music Association, an all-volunteer group that has been bringing live Celtic music to Central Iowa for almost thirty years, and is also a member of the Scottish Heritage Society of Iowa where she has developed a discerning eye for men in kilts. As well, she is studying her Irish roots and documenting her Scots/Irish/Swiss/German genealogy for her children who really aren't that interested.
Tina preps for the show with some of her favorite traditional foods: bangers and mash, pasties, cock-a-leekie, bannock, or coddle, and she recommends a nice pint of Belhaven Kilted Pilsner or a wee dram of Jameson as the perfect accompaniment to her Celtic Music Show where she plays as wide a variety of music as she can scrounge. To be in the spirit of the live show, she wears her tartan flannel sleep pants, and sings along off-Mic.
She is most grateful for the support of the sponsors, and to her listeners who text their requests during the show.