Ron Sorenson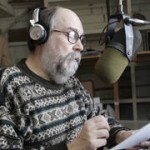 Sunday Acoustic Brunch / The Ron Sorenson Show
Sorenson was progressive before progressive was cool.
KFMG originally employed Ron in the '60s when Des Moines first got its taste of progressive music and Ron still symbolizes Des Moines' progressive music image today.
Ron loves acoustic sound, he golfs avidly and lives with his collection of music, t-shirts and used putters.
It is largely because of Ron's life work that we scoff at progressive radio posers in other parts of the country. San Francisco, Chicago and Boulder got nothin' on us. Des Moines has KFMG. We had progressive radio when other cities were listening to Tony Orlando. We have Ron on the air every weekday afternoon.
What was the question?