Kim Samuelson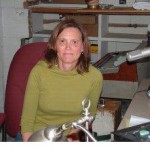 Women Who Cook
Kim is another KFMG-lifer. Oh, she tried to escape, but we insisted that she come back every Sunday with Women Who Cook.
A cooking show? Not exactly, even though Kim has been associated with some great local restaurants. Kim does live radio Sundays at noon with a focus on women who make great and diverse music. They cook.
During the week she works at that big publisher down the street so she can help us proofread stuff like this. Bonus!