Kenn Bowen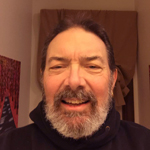 Where The Blacktop Ends
Kenn Bowen is the host of 'Where The Blacktop Ends,' a show featuring "music with a twang." You'll hear Americana, Alternative Country, Outlaw Country, Rockabilly, and Country Rock.
The show airs every Monday night from 8-10 p.m., right after 'Dirt Road Radio.'
We are heartbroken to share that long-time KFMG volunteer Kenn Bowen was killed in a motorcycle accident on Tuesday, April 11, 2023.
Our thoughts and love go out to Pat (his wife of 51 years), their three daughters (Jennifer, Amanda, Elizabeth) and their six grandkids. Kenn was 72.
Kenn was the host of Where the Blacktop Ends, KFMG's Alt-Country program on Monday nights, from 8 - 10 p.m. He called it "eclectic twang," and it was almost any kind of music that was "country" or leaned in a country direction. Because Kenn and Pat were planning an excursion, he'd pre-recorded his next three shows. After discussing this with Pat, she and Gary Monte and I were all in agreement that we should share these three new shows. As Pat noted, Kenn worked HARD on his radio shows, and was appropriately proud of his work. As a tribute, we plan to share these shows. We'll discuss what will happen during that time slot in the next week or two, and will share the decision.
Kenn was an important part of KFMG's programming and announcing family and he will be missed very much. And not just because of his on-air work. He was a passionate supporter of ALL styles of music, and a generous supporter of KFMG. He was also a wonderful human being.