Abe Goldstien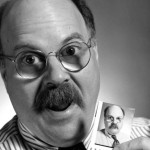 Straight No Chaser
Abe Goldstien is host of STRAIGHT NO CHASER every Sunday night from 5 - 8 p.m.
If you were listening to jazz albums in the early 1970s, chances are they came from Abe. While a student at Drake University, Abe owned a local record store. The store is long gone (as is his hair), but Abe's passion for jazz is still growing!
Abe loves nothing better than sharing his favorite music with friends including bringing music to Des Moines at Jazz at Caspe Terrace.

His passion for jazz is only matched by his passion for his volunteer work at Moore Elementary School in Des Moines, his life as an accordion player and leader of The Java Jews, his volunteer work with the Community Jazz Center of Greater Des Moines and the Des Moines Jewish Community, his semi-retired career in advertising and his family. After all, his wife Jackie, saw Sun Ra when she was 10 (this was a match made in heaven ... okay, Saturn); his son, Hayden, is a software engineer in Minneapolis; and his daughter, Langen, is active as a blogger and booking agent in the Twin Cities' music scene.